Post by spencer on Oct 30, 2018 15:34:11 GMT
Last night,
ironmike
and I played our first game of Grimdark Future: Firefight version 2 at Game Kastle in Mountain View, California. We had a blast, and it was a lot of fun trying the new rules and comparing them to the old version, along with trying new strategies.
Lists
This was a 300 point game. We opted for 300 points instead of the suggested 150 for two reasons. 1) In GFF v1, we used to play primarily 300 point games, so we wanted to compare the size and feeling. 2) 150 points of Battle Brothers feels like you have no miniatures at all (an exaggeration, of course). 300 points gave us more options.
ironmike
played Orc Marauders and I played Battle Brothers. My list was as follows:
300 points of Battle Brothers v2.0
Name
Quality
Defense
Equipment
Special Rules
Cost
Captain [1]
3+

2+
Plasma Pistol (12", A1, AP(2)),
CCW (A2)
Fearless, Hero, Tough(3)
75
Support Brother [1]
3+


2+
Heavy Machinegun (36", A3, AP(1)),
CCW (A1)
Fearless
50
Battle Brother [1]
3+


2+
Assault Rifle (24", A1)
Fearless, Veteran
35
Assault Brother [1]
3+


2+
Plasma Pistol (12", A1, AP(2)),
CCW (A2)
Fearless, Jetpack (Ambush, Flying)
50
Destroyer [1]
3+


2+
StormRifle (24", A2),
Energy Fist(A2, AP(4))
Ambush, Fearless, Tough(3)
90
ironmike
will have to post his list here for your viewing!
The Battle

Our battlefield was fairly packed with terrain. This was intentional, as both of us have played against the TAO Coalition in the past, and we fully support breaking-up lines of sight. Plus, it adds to the flavor and immersiveness of the battle.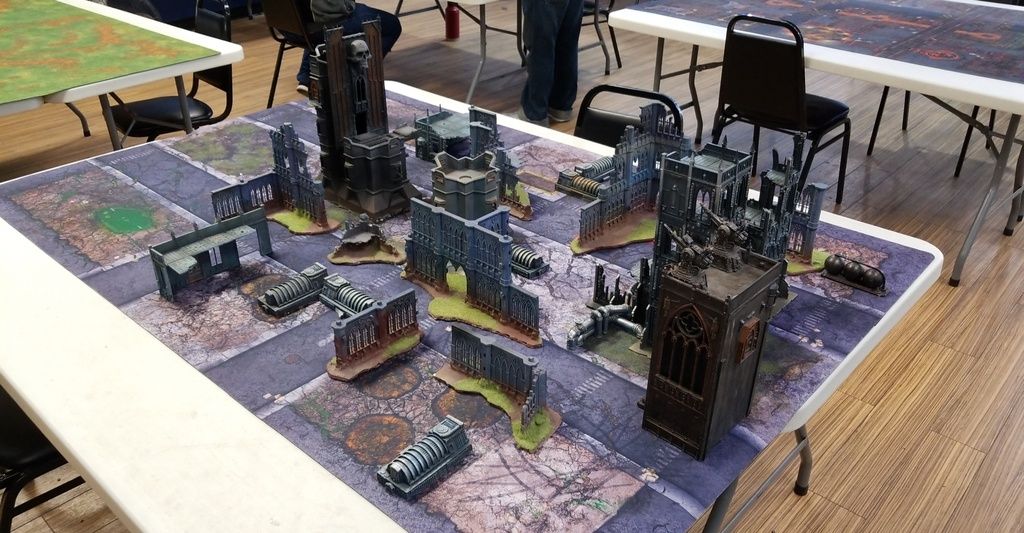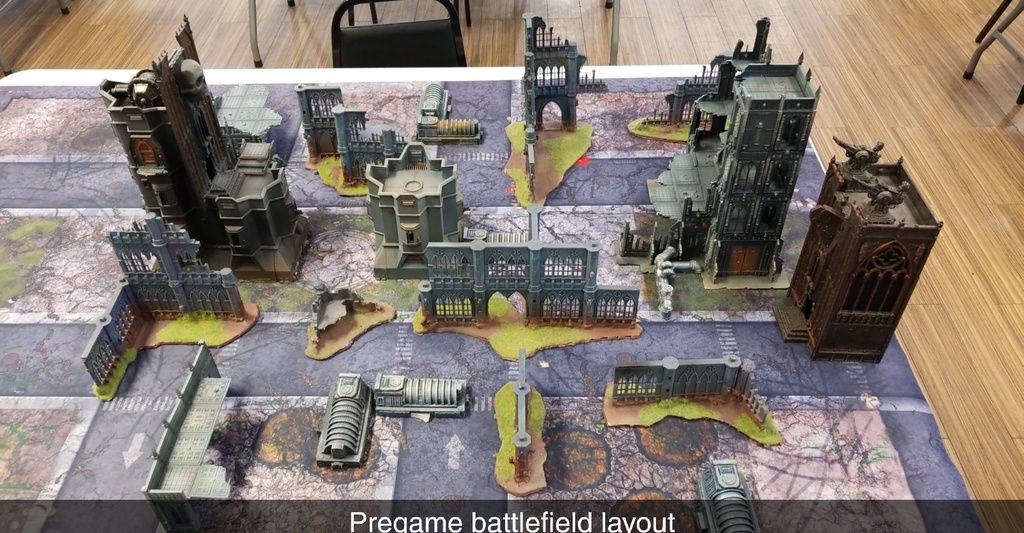 ironmike
won the roll for deployment, and we deployed our troops. The roll for D3+2 objectives was a 3, so we each placed two of the four objectives. In the pictures, the square, box-shaped generators are the objectives.
My Support Brother was deployed on the second-story of a ruin, where he had a good view of part of the field. My Captain was in place for getting involved in covering two of the objectives, and my Battle Brother was in place on the other side of the field, where he could threaten the third of the four objectives.
Objective four was placed behind the tall building along the table edge and neither of us took that over the course of the battle (not that I did not have plans for such!)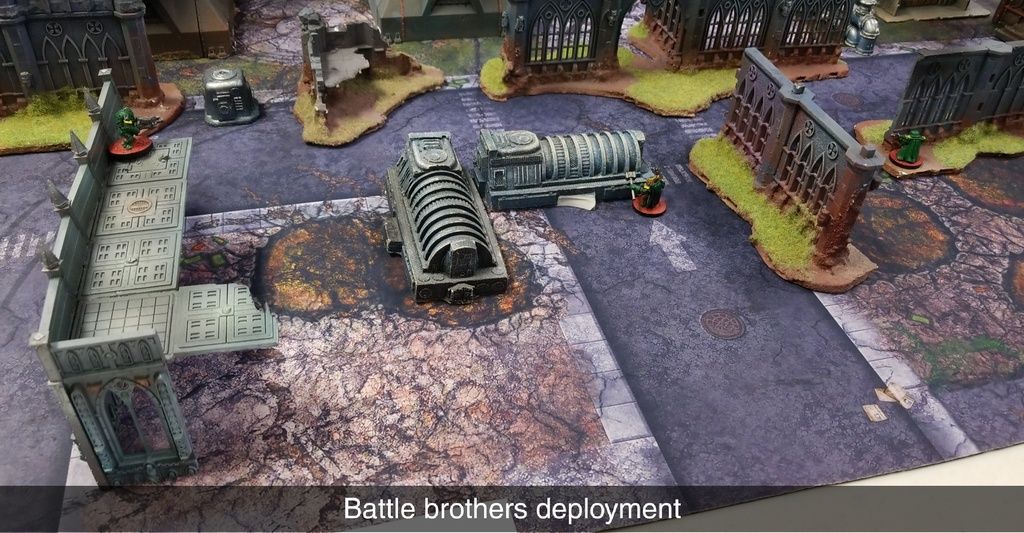 Round 1 went by quickly. We both had held units in reserve (me with my Destroyer and Assault Brother and
ironmike
with his two Jetpack Orcs). Both of us spent the round moving into position. While I slightly regretted the placement of my Support Brother on the ruins, he did serve well to project an area of threat over two of the objectives that limited the Orcs' movement.
Round 2 began with Ambushing. I won the roll-off for Ambush, though in hindsight it might have been better, if I had not, as it allowed
ironmike
to react to my placements. In the photo below, you can see my Support Brother on the second story of the large building on the right, and my Destroyer is below him.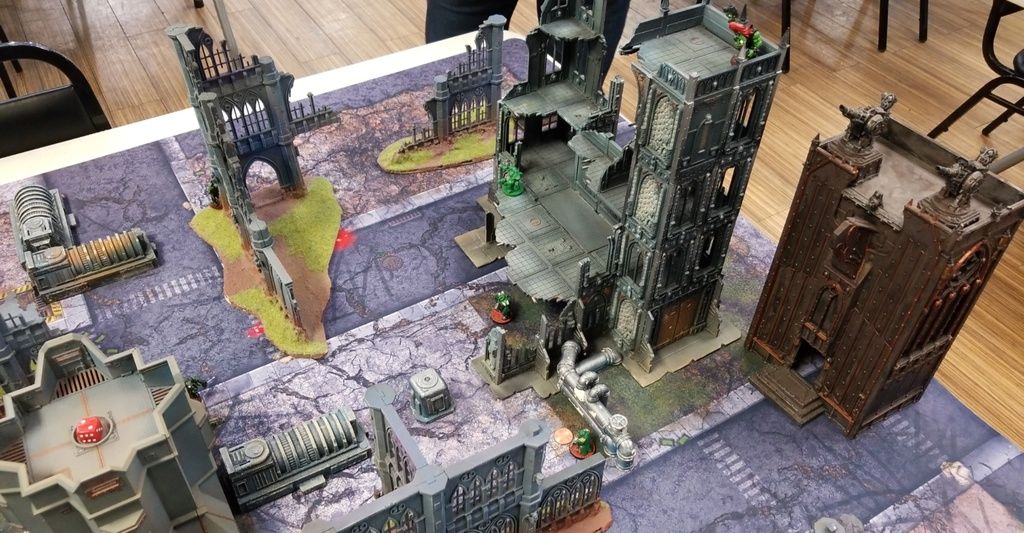 ironmike
placed a Jetpack Orc in the tower on the left and the tower on the right. Very strong positions, especially as they out-ranged some of my units.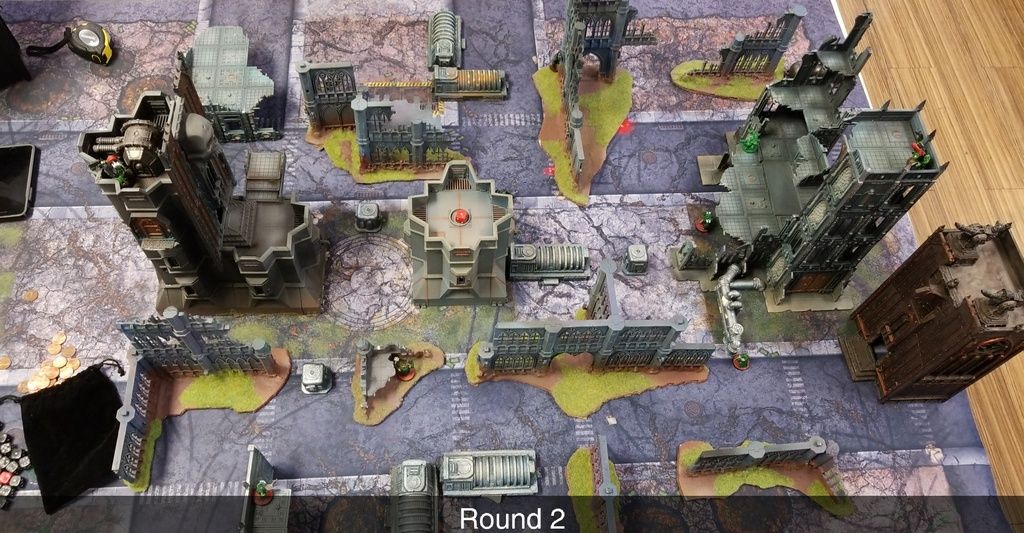 Before my Support Brother had the chance to act, one of
ironmike
's Jetpack Orcs flew down and unloaded on him with a Carbine and a Heavy Flamethrower, claiming first blood.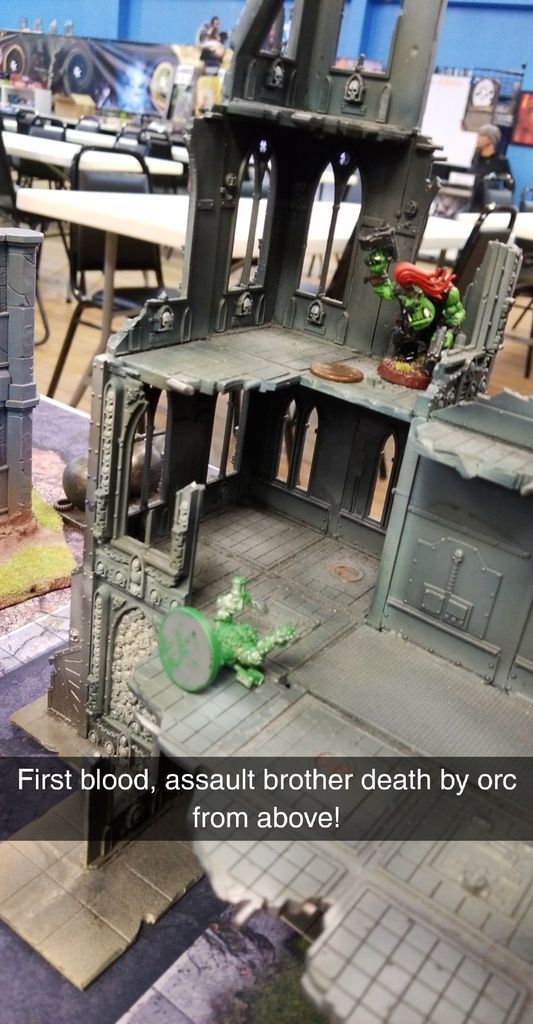 Round 3 involved some heavy fighting over the right-side objective, and the combined firepower of the Orcs, plus the Orc Shaman's Death Bolt, wrecked my forces. I did manage to take revenge on the Jetpack Orc with some cross-battlefield shots from my Support Brother's Heavy Machinegun.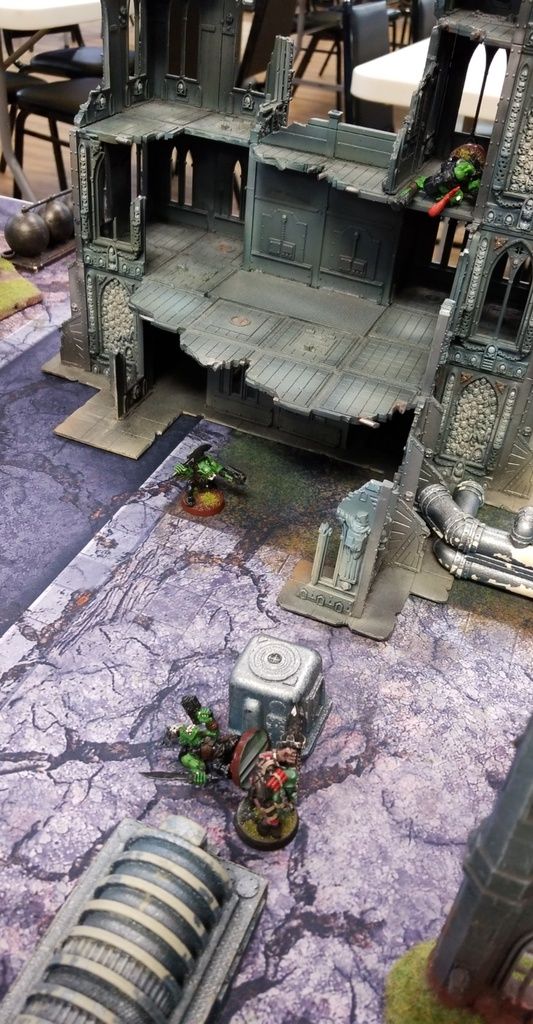 Round 4 saw me starting with just my Support Brother and Captain left. I had managed to inflict some casualties on the Orcs, but holding two objectives (or at least contesting one and holding one to tie the game) was going to be difficult.
The Captain charged out and contested an objective, while the Support Brother held the other. Poorly played on my part, the Captain did not shoot, as I thought he would be better off being in full cover from the Orc forces.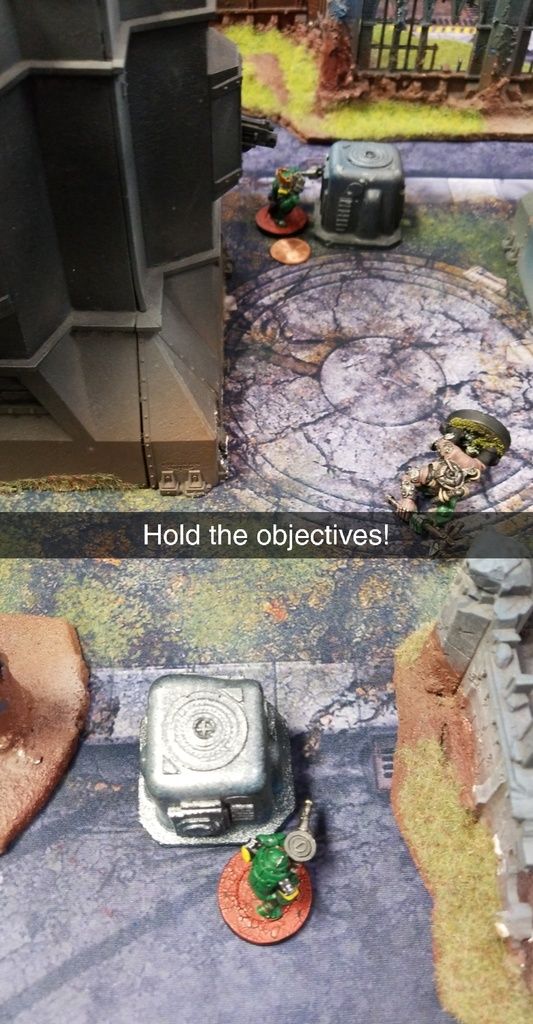 The Orcs firmly held the objective on the right side of the field.
The four objective remained unheld the whole game, though I had planned to have my Support Brother fly down and grab it, before he was callously murdered.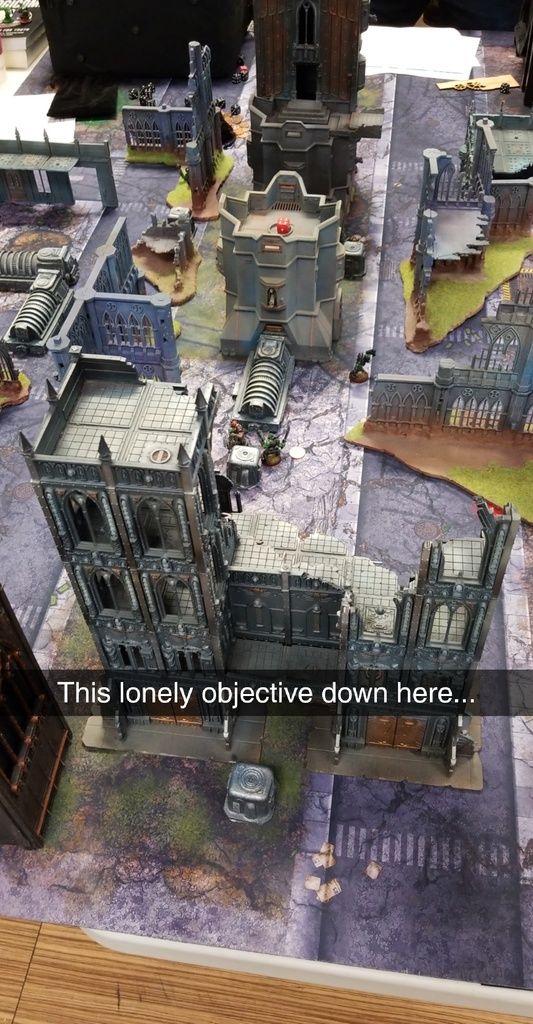 Unfortunately, not using my Captain to shoot something was my downfall, as the Shaman used his Round 4 move to both contest the objective held by my captain and Psychic Vomit all over my Support Brother. While the Support Brother survived, he was stunned and unable to hold the objective.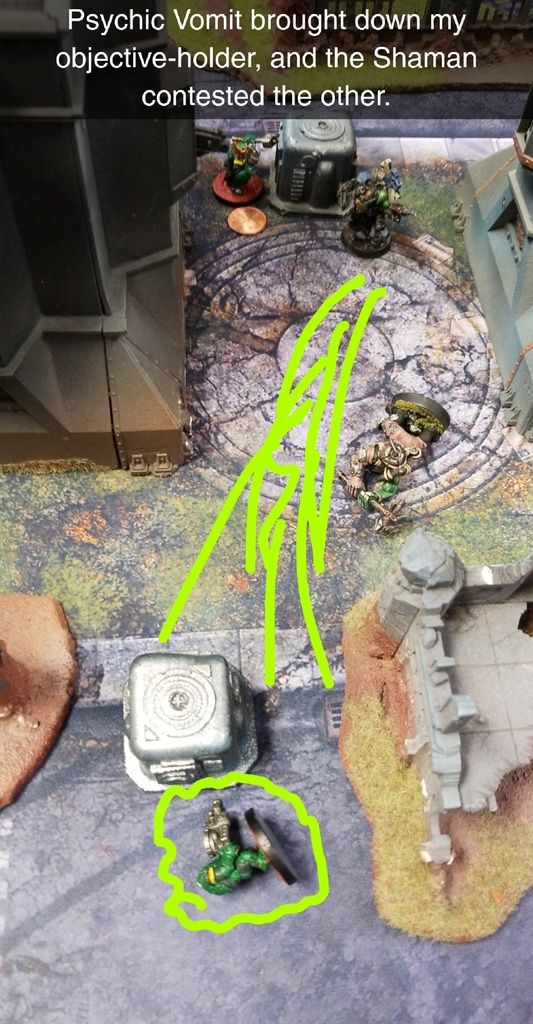 The Orcs took the game, one objective held to the Battle Brother's zero objectives.
Thoughts on Lists and Rules
ironmike
put it well, when he said, "I could see taking 300 points of just basic Battle Brothers (10 Battle Brothers with no upgrades) as being a formidable force. And they most certainly were formidable. The loss of my Support Brother before he could act was a significant blow. The Fearless special rule did come in very handy (and very on-flavor), when my Captain failed his rout check.
In some respects, I wish I had taken more in the way of numbers. Five units of Battle Brothers to the eight units of Orcs was not enough, and I did not play the Battle Brothers to their strengths. The Destroyer, for example, never got into melee, and his Energy Fist would have easily laid-out some Orcs. I might have been better-off spending the 90 points on two or three other units instead.
Edit: Now updated with pictures!